You finally got your business website up after working through weeks of discussion with your website developers for the perfect website.
You put your website through Google's Pagespeed Insight tool and realize that it is not loading as fast as it should be!
Before you start scratching your head in frustration or choose to sweep this under the rug, let us explain why you should care about this and share ways you can optimize your website to achieve an excellent Google Page Speed Score.
Google Page Speed: Why should I care?
Your role as a business is to ensure that your customers can easily find and interact with your brand to encourage sales, so how does the Google Page Speed score affect your website? Since 2010, Google has clearly indicated that site speed is one of the signals they use as part of their algorithm to rank websites. This means that if your website's page speed is significantly slower than the industry/ Google's standard, you will be penalized by a lower ranking position on the search engine.
Furthermore, with the increase in mobile users in the past two decades, Google has ramped up its focus to provide a better mobile experience for its users as well which bodes well for you. Google has discovered that the lower your Google page speed score, the higher the probability that your customer will bounce from your page.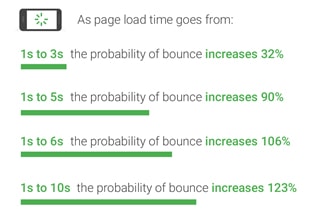 Image A: ThinkWithGoogle
If you would like to check your mobile site's Google Page Speed score, you can do so at Test My Site.
How do I improve my Google Page Speed Score?
Now that you have ran your website through the Google PageSpeed Insights tool, what's next?
There are plenty of factors that Google takes in to tabulate the score but the most common reasons for a lower score are attributed to bulky images and less than optimal code design.  With the increasing trend of websites containing more visual elements like images and videos over words, the time it takes to load these elements are usually the number 1 cause of slow page load speed. Google's research has shown that even a page weight of just 1.49MB, took seven seconds to load on a page; would you wait 7 seconds to view a page?
1. Compression of images
Compressing your image allows you to retain the same image quality without the bulkiness, hence, allowing your page to load faster. If you are using WordPress, there are plenty of plugins in the market that will allow you to compress images for free like WP Smush Images. If you are not using WordPress, you can consider Compress JPEG which is a software application for image compression or consider using Web-P images.
Web-P is a format that was developed by Google to allow webmasters and web developers creation of smaller, richer images that make the web faster.
2. Minifying your CSS, JavaScript and HTML
Minifying is the process of removing unnecessary or duplicated data without impacting how a browser will process the HTML. This includes: removing spaces, commas, other unnecessary characters as well as unused codes. As with the simplicity that comes with using WordPress, we recommend using HTML Minify, if you don't use WordPress, Google actually recommends a few resources for minifying your website.
3. Reduce redirects
Redirects of pages add time waiting for the HTTP request-response cycle to complete. E.g. if your website redirect loads like this: abc.com/123 -> www.abc.com/123 -> www.abc.com/124 -> www.abc.com/125, each of the additional redirects will make your load speed slower. This is why you should always think ahead wherever possible to ensure you don't have to redirect pages as much in the future.
4. AMP -Accelerated Mobile Pages
AMP also known as Accelerated Mobile Pages, are Google's solution to help mobiles sites improve the loading speed of content-heavy webpages. It works by stripping away unnecessary content making them lean pages that load almost immediately. However, if your website design is mainly based off the use of visual contents, you might want to think carefully on pages to implement AMP on and where to maintain a normal mobile-responsive design.
If you would like to implement AMP on your WordPress, there is a simple plugin called AMP For WP, otherwise you might want to approach a website developer for assistance.
At the end of the day, you build your website to help you convert business for your brand and as Google as proven, websites with a lower Google Page Speed score bounce more visitors. As such, you would want to work on optimizing and focusing on getting your score as close to 100% as possible! There are plenty of tools in the market to help you achieve a faster load speed but it can be a little overwhelming for marketing folks who do not have technical experience.
Adssential Marketing has a team of website developers who are skilled in assisting business in creating the website of their dreams with the market's best practices to ensure they work well in converting prospects as well. Contact us today to see how we can help improve your website!