In Singapore, there's a stringent privacy policy and processes set in place to protect consumer and businesses. Likewise, Facebook is no exception with strong account privacy. We would need to grant Facebook access before agency can start work on it.
Running a Facebook page for years? Decided to take a step further and improve your digital presence in the social world but unsure on steps required before engaging an agency? Adssential Marketing will guide you through the process to have a transparent Facebook access within both companies.
Here are the steps in granting access and gaining Facebook access to business manager, ad account and pages.
Facebook Account Creation & Setup
Facebook Page
Creating a Facebook page is quite simple. Most business these days have a Facebook page. New companies and startups should always be sure that Facebook pages are being setup to build strong recognition and credibility of desired company.
Facebook Business Manager
This will require an upgrade of an existing Facebook page, fairly simple and easy to follow. An important point to take note, upon converting your account into business manager, this process can never be reversed. Creating of business manager will require a personal Facebook account to confirm their identity.
Business manager accounts allow multiple organizations and users to manage the pages, apps, Instagram accounts, ad accounts with delegated access rights and an option to collaborate with one another without the need of being friends on Facebook.
Ad account
Creating a Facebook ad account is important to market and advertise your products and brands effectively and efficiently. Under business manager account, we will have 3 options to add ad accounts.
Add an Ad Account
Request to an Ad Account
Create a new ad account
A clearer break down on ads creation can be viewed here. (Facebook Guide)
After creating or adding an existing ad, we would grant different levels of roles and access to users managing these ads.
Mainly 3 different access levels, Analyst which allow users to view ads and access reports but unable to make any changes. Advertiser, allow users to view ads, access reports and create or edit ads. Lastly, Admin which does all the above including payment methods and managing of all other users' access levels.
Facebook Partners asset sharing
Let's start by requesting page access by going into business settings

In the left navigation pane, let's maneuver over to Users > Partners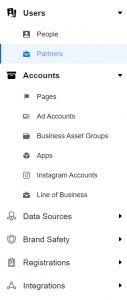 Click on Add to share with two options which is to give a partner access or ask a partner to share their assets. Click on giving a partner access and add your partner business ID.

Upon sharing Facebook assets and access, there are available options to limit sharing of pages or sharing of ad accounts to your partners (known as agency). This will still provide you full visibility and control you have over your own Facebook business account.