Everyone loves a friendly, responsive, fast website that ranks at top of the page in SEO. If you're not currently looking to engage a digital marketing expert in obtaining your desired SEO & SEM results, you can still achieve good website habits and ranking with google search console, previously known as google webmaster.
Google's Webmaster tools provide general design, technical on-page or off-page guidelines and quality guidelines to obtain good ranking in search engines. This ensures your site is filled with quality keywords that will trigger the search engine to show your webpages. Providing high quality content on your home page and other pages that would attract webmaster to link to your site as Google uses complicated high text matching techniques that interprets page 1 to page 2 based on relevancy and authority ranking scores. Do bear in mind that Google's search engine is able to distinguish between natural links and unnatural links and penalize sites that utilize black hat SEO methods.
Here are some tips to avoid getting yourself penalized with Google algorithm in obtaining a ticket in manual actions and security issues in google Webmaster.
Do not stuff keywords on your site or allow "crawler only" pages which google consider it as deceptive.
Do not be obliged to engage on a search engine optimization service if you deem a company is performing black hat SEO methods.
Avoid creating multiple pages with different URLs as these are deceptive techniques. Instead, perform canonical version of page which helps in your website ranking.
Always use an ALT text in images if your main content and keywords on page can't be formatted in regular HTML.
Most SEO agencies such as Adssential Marketing use white hat SEO methods of improving your site's flow and content while others attempt to fool Google's search engine with unorthodox method frowned upon by Google..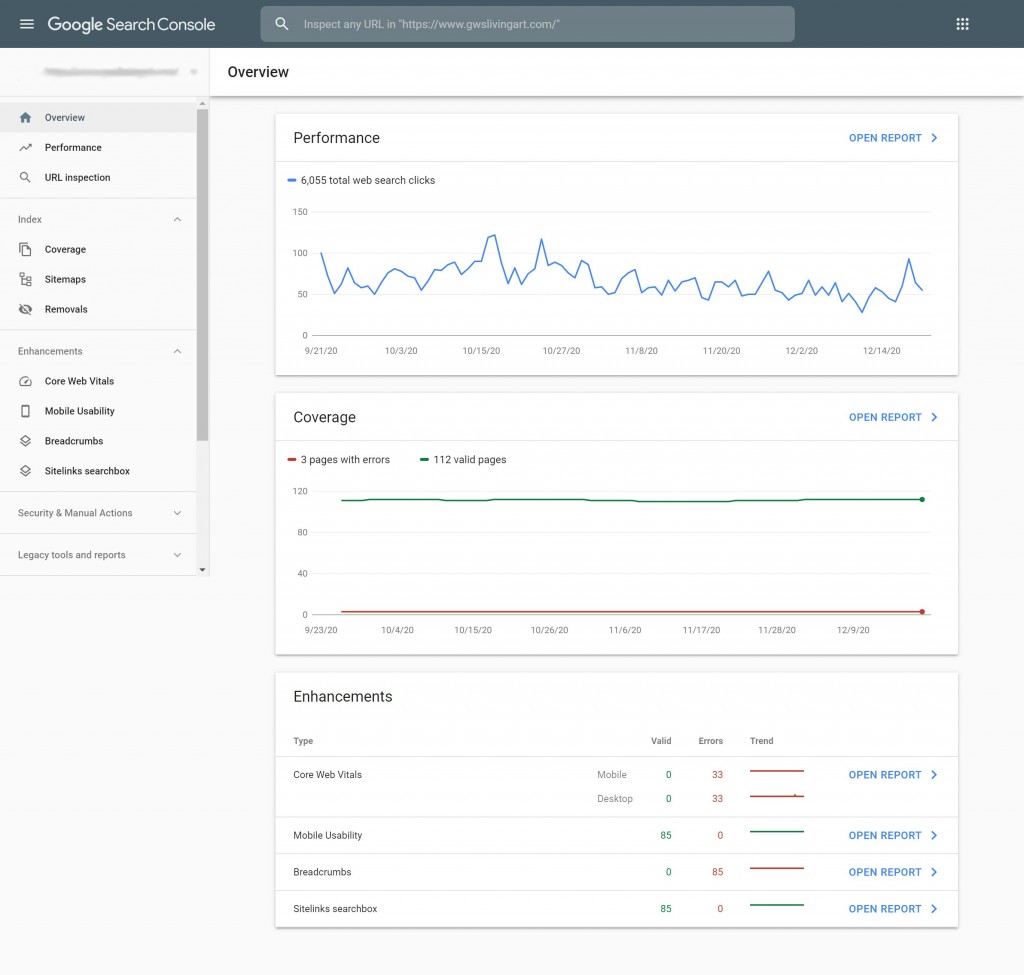 Gaining Success on Search Ranking Result Page with Google Webmaster
There is a thousand and one ways in achieving good positioning in search pages, but the budget can add up quickly. If you're low on funds, you may consider focusing your efforts on SEO traffic instead of engaging in a full suite of digital marketing services. Thankfully, Google has given us an effective tool to understand your site and improve on ongoing errors that affect your page ranks known as Google Search Console, previously known as Google webmaster.
The best part of Google Search Console is that it is completely free and a native Google tool, thus, as Webmaster of sites, we should fully utilize the tool and improve on our search ranking.
Adding your website
To start things off, you'll need to create an account on Google search console (previously known google webmaster) and verify your account. Do ensure that you have access to your website or hosting panel to perform these tasks. Unfortunately, this is not a tool for competitor's analysis as you need prove of ownership to gain access to website data.
Begin by clicking the "add property" button on the left-hand dropdown and entering your site name and verifying your ownership. (P.S. It's a strict entry, so http or https are counted as different sites)
Dashboard
With a verified site, you'll start seeing data on your website, thought it might take a while to start seeing data. Explore with different tools such as overview, performance, and URL inspection.
Overview provides a holistic bird eye view of your traffic, keywords you are ranking and errors you are facing with your website i.e. errors such as with breadcrumbs, mobile usability, FAQ, logos, review snippets and etc…
With Performance, you can see a more detailed breakdown of your site's performance on Google. Such as total clicks, total impression, average CTR, average position and query which is vital in planning your SEO and SEM strategies.
Sitemap
Just like everything else, Google isn't perfect, so configuring your sitemap is crucial and disavowing any non-related url links that you obtain. Some competitors might try to sabotage your website ranking by linking your site to random pages which Google deems as inappropriate.
Coverage
Some pages on your website are not intended to be used in ranking your sites such as login pages, in these cases, you should exclude such pages and ensure that Google does not rank these pages under coverage section.
You can perform these actions by creating a robots.txt file and block search engines from accessing these pages. You may also create password-protected directories for highly sensitive pages.
Enhancements
As with the difference in the way you run your website as to the next business, your enhancement menu might be different for every Google Webmaster. E.g. we might have only mobile usability, which you'll want your site to be working on every mobile page with zero errors. If you were to add more items and categorization for our website. More enhancements would appear such as breadcrumbs, FAQ, Logos and review snippet as shown in the image below.
These are ideal guidelines that Google has flagged as valid or inappropriate that you would need to fix.
These are idea guidelines that Google has flagged as valid or inappropriate that you would need to fix.
Manual actions
Next up are manual actions, it basically means "flagged as spam by human". As Google is able to detect spam and demote rankings automatically, if we were to review a website and flag as spam, you'll get a notification here. You should only see "No issue detected", anything else would means rectification works have to be done immediately.
Second would be Security, it should only show "No issue detected" as any other information shown on your Google Webmaster should be fixed immediately.
Links
Links consist of a comprehensive data dashboard that shows where you are receiving links from and it is broken into two categories, internal and external links.
Internal Links – linkage of pages within your site.
External Links – sites that are linking back from other pages, known as backlinks, known to be one of the top-ranking factors for google. It proves that your site is well known in other pages but do note that flagged sites will affect your overall ranking. Thus, always disavow and check on your external links diligently.
The best way to increase your rankings on Google is to get more high-ranking domain sites to link to you. Google usually rewards quality over quantity so make sure you are not link-dumping your website with "spam" domains, but quality websites have higher domain authority.
In Conclusion
If you're looking to grow your website ranking fast, you would need to play by the book, and we would suggest you to follow closely to Google webmaster's guidelines aka google search console now or engage a SEO expert if time and cost permits.
The simplest way is with the free Google Search Console. Adssential Marketing hopes that this article has provided you a free SEO friendly tool in achieving top position in your search engines. If you would like to improve further or gain some valuable help. Do contact us and we would be happy to assist you in reaching your desired goal free of charge in google webmaster.