Building A Website That Is Visually Appealing and User-Friendly That Engages Your Audience?
Your website is often the first impression customers have of your business, and it's crucial to make it count. That's where our web designing services come in. Our team of experts specializes in creating stunning websites that not only look amazing but also function seamlessly with our design methodology and development concept.
When it comes to web design, there are several different types that you should be aware of. Each type has its own unique characteristics that appeal to different audiences and purposes. It is important to understand the differences between them so that you can choose the best one for your website's needs.
Web Design
The first type of web design is called static web design. This type of website uses HTML code to create a basic layout and structure. Static websites do not have any dynamic elements like animations or interactive features, but they are easy to create and load quickly. They are often used for small businesses or personal blogs where the content does not change frequently.
Another type of web design is known as dynamic web design. This involves using scripting languages like JavaScript or PHP to add interactivity and functionality to your website. Dynamic websites allow users to interact with the content in real-time, such as through forms or shopping carts. This may sound costly, which in fact at Adssential Marketing, we are able to provide such services at a fraction of the cost. We believe that all organization should be well equipped with a website for easy changing and content uploads which is where we are niche in this area.
Web Development
Apart from web design, another factor to put into consideration would be web development. A development process may take from as quick as 1 week to a month depending on the complexity of the website structure.
There are few types of web development, the first type of web development is front-end development, also known as client-side programming. This type of web development involves creating the user interface or what users see and interact with on websites. Front-end developers use languages such as HTML, CSS, and JavaScript to design responsive websites that work seamlessly across different devices and browsers.
Another type of web development is back-end development or server-side programming. Back-end developers are responsible for building the server-side components that power a website's functionality.
As web design and web development maybe very technical for different individuals, we turned your business unique needs, and we tailor our services accordingly into web design and development language. From responsive designs to intuitive navigation, we ensure that your website is optimized for maximum engagement and conversions yet portraying your idea look and feel you would like to encompass it with.
Our designers stay up-to-date with the latest design trends and technologies, ensuring that your website stands out from the competition. Plus, we make sure that everything from layout to content aligns with your brand identity.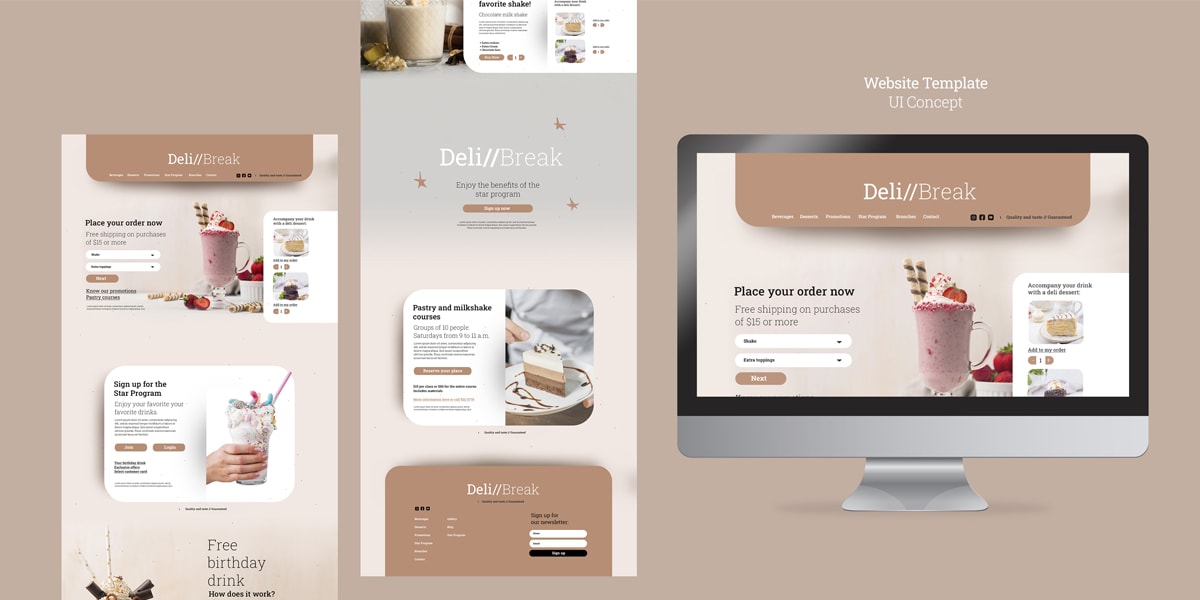 If You Are Looking For A Visually Appealing Website With A Web Design and Development Agency:
1. CONSIDER YOUR WEBSITE REQUIREMENTS
Your website should be designed according to your needs and goals, as well as those of your target audience. To begin with, ask yourself what type of website you want to create. Do you require a simple informational site that provides details about your products or services? Or do you need a more complex e-commerce platform that allows customers to make purchases directly from your site? Or do you need a eye catching site with amazing images and animation that is eye catching to grab user attention for a contact form submission?
Another crucial consideration is whether you need mobile responsiveness. With more and more people accessing websites on their smartphones and tablets, having a responsive design is becoming increasingly important. It enables users to access your site easily from any device without compromising usability or functionality.
2. BUDGET REQUIREMENTS FOR YOUR WEBSITE
Deciding on your budget for a website can be a tricky task. You may ask yourself, how much should I spend? Will it be worth the investment? What factors should I consider in my decision-making process?
The first thing to consider is the type of website you need. Is it a simple blog or a complex e-commerce platform? A basic website may cost less than an advanced one that requires more features and customization. Additionally, you must take into account the ongoing maintenance costs that come with having a website. Another crucial factor to consider is your target audience. Who are they and what do they expect from your website? Your budget should reflect their needs and preferences. With the scalability of website nowadays, upscaling from a simple website which cost $990 upwards will be an easy task with your developer. Ensure that you start of with a budget in mind and scale as you understand more of your audiences and requirements that needs to be input in your website.
3. ACCESS THE PORTFOLIO AND PAST WEB DESIGN & DEVELOPMENT
If you're in the market for a web developer, one of the most important things you'll want to consider is their portfolio and results. After all, this will give you a clear idea of what kind of work they've done in the past and how successful they've been at it.
First and foremost, take a look at their portfolio. This will typically showcase some of their best work and give you an idea of what kinds of projects they specialize in. You'll also be able to see whether or not their design aesthetic matches up with what you're looking for. Don't be afraid to ask questions about specific projects or techniques used as well as some NDA projects that they might have – a good web developer should be more than happy to walk you through their process and also share with you certain projects without any company name for confidentiality wise due to NDA signed.
4. HOSTING AND DOMAINS
Apart from a beautiful website design, there are 2 important factors, which is known as hosting and domain. Hosting refers to the server that will store your website's files and make them accessible on the internet. Meanwhile, a domain is the address that people use to find your website online. While it's possible to purchase hosting and domains separately, working with a web developer can make the process much smoother.
A web developer can help you choose the right hosting plan for your needs based on factors such as website traffic, storage capacity, and security features. They can also register your domain name for you, ensuring that it's available and helping you select one that represents your brand effectively. Your web developer can then set up your site on the chosen hosting plan, configuring everything from email addresses to SSL certificates for added security.
5. WEBSITE MAINTENANCE PLAN
Website maintenance should also be taken into consideration to keep a website updated, secure and functioning smoothly. Regular maintenance can prevent technical issues, security breaches, and downtime. Website maintenance includes updating content, plugins, codes, ensuring that security measures are in place to prevent hackers from accessing sensitive data or compromising the site's integrity. Maintenance does not have to be on a monthly basis but more of break and fix approach, where you can dictate when you prefer in terms of months. On best case scenario, a monthly maintenance would be preferred to ensure maximum and optimum maintenance for website to be up and running smoothly.
Our Thoughts
Don't let a poorly designed website hold you back. Let us help you create a professional online presence that showcases your strengths and drives measurable results. Yet able to meet your requirements and turn your ideas into real content within a website. Contact us today to schedule a consultation and take the first step towards a better web design and presence!